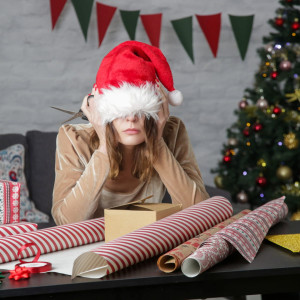 The holidays are full of magic, excitement, joy, and stress. Whether you are dealing with the financial stress of the holidays or navigating personal relationship hurdles, there is plenty of stress to be found during the most wonderful time of the year. This seasonal stress, accompanied by normal, everyday stress can be overwhelming and negatively impact your quality of life. So what can you do to manage the negative effects of holiday stress, here are three tips to help you cope?
Say "No"- Get comfortable with saying "no" to commitments that you do not feel are beneficial to you or your family. Setting limits or boundaries for yourself is an important step in maintaining control over your life and not overwhelming yourself with more than you can handle.

Engage in self-care activities- Carve out time to take care of yourself during these times of heightened stress. Take a 10-minute walk outside, hop in a warm bubble bath, snuggle up in a blanket and read a book. Remember that you are important and if you don't take care of yourself who will?

Respect individual differences- Although you may be family, that doesn't mean you will be on the same page all the time. Acknowledge that there are differences among people and respect them. Instead of focusing on what your differences are, focus on your similarities. Steer clear of conversation topics you know are triggering. Set boundaries on what topics you are willing to engage in conversation and do not be afraid to walk away from situations that are uncomfortable or triggering for you.

Create a plan- Try your best to plan ahead and avoid that hectic last-minute panic as you frantically race around trying to get everything done or be everywhere on time. Utilize your smartphone's calendar or notes app, or for those who prefer the traditional method, utilize a pen and notepad to sort your holiday season tasks!
The holidays don't have to be a source of stress and dread. If you need additional tips and strategies, please reach out. I can help. Together, we can ensure that this holiday season is less stressful and more enjoyable.