Chiropractic Care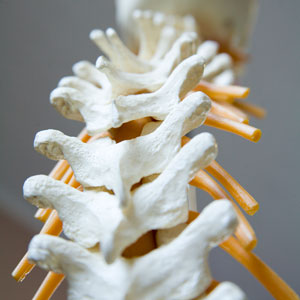 "Chiropractic care focuses on the spine and nervous system. We don't just treat the pain, we look for the cause. We look at your "back" and spine because that is where the nervous system is "housed."
Chiropractors look for misalignments in your spine that are called subluxations.
sub= less
lux= light
ation= condition
When your spine is out of alignment it puts stress on the joints, the nerves, and the muscles around them. That stress leads to a state of dis-ease. The nervous system is important, it tells EVERYthing in your body what to do!
Chiropractic care uses "adjustments" to correct misalignments. Adjustments restore the body so that it functions and feels better.
First Visit
When you arrive, you will be asked to complete a Confidential Chiropractic Intake Form for you or your child. You are welcome to print out and complete your paperwork before you come by visiting our New Patient Corner.
Your initial visit includes a detailed health history, a thorough examination, and x-rays (if necessary).
Before the Doctor performs any treatment, she will review the Informed Consent to Chiropractic Care and tell you what they found and what they can do to help. We answer all of your questions before getting started!
In most cases, you will have an adjustment (treatment) on your first visit. Please be prepared to spend up to 45 minutes with us on this visit.
Second Visit
We call this visit your "Results Visit." The Doctor will discuss what she found on your first visit and review any test results, like x-rays. You will also receive a folder of information with your results and some things you can do at home, like exercises to help you get better faster.
We explain the following about your care:
What your problem or condition is.
How chiropractic care can help.
Estimate of how long it will take.
How to prevent a recurrence.
We are here to help! How much chiropractic care you choose is always up to you. We give you all the information to follow a path to good health.
Follow Up Visits
Follow up visits involve the treatment your doctor has recommended. Treatments may include:
Chiropractic adjustments with the various techniques
Soft Tissue Therapy
Custom Orthotics
Shockwave Therapy
At every visit we take the time to answer any questions that may arise and educate you on how to stay healthy! In general, follow up visits take around 15 minutes.
Patient-Focused Care
Dr. Josline Hampson, Dr. Mo Chehimi and Dr. Sydney offer patient-focused chiropractic care in a setting where every patient receives exceptional treatment. We utilize a variety of treatment styles and cater to you, the patient. Patients are our #1 priority!
We offer "traditional" chiropractic adjustments or gentle "Activator" adjustments, and chiropractic care for the whole family. We invite you to learn more about the techniques we use in our office.
Choosing Your Care
Chiropractic provides three types of care:
Initial Intensive Care: corrects the most recent layers of damage/injury and usually reduces or eliminates the symptoms.
Reconstructive Care: also known as spinal rehabilitation, which corrects the years of damage that occurred when there were few symptoms.
Maintenance Care: helps keep you healthy.
The Doctor will explain these options to you and help you choose the care that's right for you. We want to help you keep the level of health you've achieved. No matter what care you decide on, we're always here when you need us!
If you're ready to experience a positive change in your health, contact us today!
CONTACT US »
Chiropractic Fees- Effective August 1, 2023
| | |
| --- | --- |
| Initial Chiropractic Exam: | $130 |
| Initial Chiropractic Exam (MVA- Section B): | $150 |
| Follow Up Visit Adult: | $60 |
| Follow Up Visit Student: | $50 |
| Follow Up Visit Child/Senior: | $50 |
| Shockwave Therapy: | $100 |
We offer direct billing to most insurance companies.

Chiropractor Spruce Grove | (780) 571-3536