Physiotherapy in Spruce Grove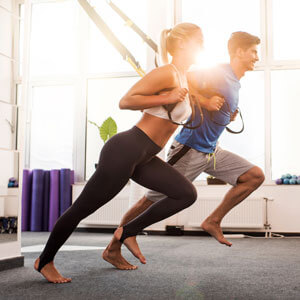 At Elements Health, we're honored to have Physiotherapists Denise McDermott, Lori Kinahan, and Donna Meier as a part of our staff. They work with each patient to create a unique and custom program that helps them achieve their goals in health while putting a focus on mobility and pain reduction. Physical Therapists are regulated health professionals who provide a comprehensive assessment and develop a plan of care that uses specialized hands-on treatment techniques to restore, maintain and maximize optimal function and quality of life. Your physiotherapist will identify the problems that matter to you and develop strategies to address those problems. The key to success is active participation by you, the patient. It is important that you follow the exercise program and advice given to you, and that you communicate outcomes and goals with your physiotherapist.
Maximum Physiotherapy Benefits
Our physiotherapists provide one-on-one patient care utilizing manual therapy, Gunn Intramuscular Stimulation (IMS), soft tissue release, shockwave therapy, education, and custom therapeutic exercise. We also offer concussion therapy and vertigo assessment and treatment. One-on-one, "hands-on care" is not your typical physiotherapy! Each session is in a private room where YOU are the focus of care for the entire appointment.
To Best Prepare for Physiotherapy…
For your appointments with us, please wear loose clothing or bring a pair of gym shorts and a tank top to your appointments. Also bring any additional information you have, such as x-ray reports or notes from your doctor or referral source if you have one (this is not required). We will have you fill out your Health Information Forms at your first visit. You will then meet with the Physiotherapist for a review of your health and a thorough examination. Unless otherwise indicated, you will also have a treatment at your first visit.
Schedule Your Appointment
Ready to see firsthand how care our physiotherapists can help you feel your best? Get started today by booking your first visit with us—we look forward to welcoming you into our practice!
Physiotherapy Fees (Effective March 1, 2022)
| | |
| --- | --- |
| Initial Assessment: | $130 |
| Follow Up – Adult (30 Minutes): | $100 |
| Follow Up – Seniors (30 Minutes): | $95 |
| Follow Up – Students (30 Minutes): | $90 |
We offer direct billing to most insurance companies. If proof of coverage cannot be obtained at the time of your visit, a fee-for-service and payment is due at the time of service. Most extended health benefit plans have some coverage for Physiotherapy. Please check with your specific plan to see what your coverage includes, as each plan is different. Physiotherapy services are not covered by Alberta Health Care or Worker's Compensation Board (WCB) at our clinic. We do, however, treat patients who have been involved in Motor Vehicle Accidents.

Physiotherapy Spruce Grove | (780) 571-3536